websites to visit
Bishop Barron
speaks about the feast of All Saints
here
Three minute retreat at
loyolapress.com
Take a breath and pray!
​
Bishop Barron
teaches about the mass at
wordonfire.org
​
Agape Latte
podcasts
on
Boston College's
website
​
A community of women devoted to sisterhood and daily prayer -
Follow the
Blessed is She
blogOngoing education
from the
University of Notre Dame
new
courses
starting in January
Get clear and credible
responses
to questions raised by science and modern life
at
The Magis Center
website
​
Prepare the readings you will hear at mass on Sunday
Read them here at the
US Conference of Catholic Bishops
website
and read some background here at the
St. Louis University
liturgy website
Video and music reflections on Sunday scriptures at
The Five Loaves
website
Learn about a
saint
a day - minute meditations and much more?
Visit Franciscan Media
here
Learning about our Catholic faith
here
​​
Powered by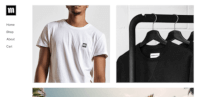 Create your own unique website with customizable templates.
Photo used under Creative Commons from rkramer62